due to those evil people showing off their really cool setups/systems on the Hangout's (well the YouTube after session recordings at least... I keep [bleep] missing the live hangout....)
I have started thinking about working on my CQC setup again...
note:my CQC is currently running/doing its thing... I just really have not done much with interfaces/drivers/anything really in a really long time... I think the last thing I did was load up the Sonos driver and verified it worked... never really implemented it for anything though... still need to hook up my RCS that I installed like a year or two ago... don't want to go too fast or over do it or anything...
so anyway, I was just doing a casual search for touch screens, since other than my Samsung Q1 in my theater, I have no real touch screens, and the Q1's little low def 7" screen isn't much to brag about...
sic0048's kitchen screen seems like a really cool idea... and putting it on an arm or something seems to me to be the perfect solution...
so anyway, I came across this:
Sharp PN-L802B 80" LED LCD Touchscreen Monitor - 16:9 - 6 ms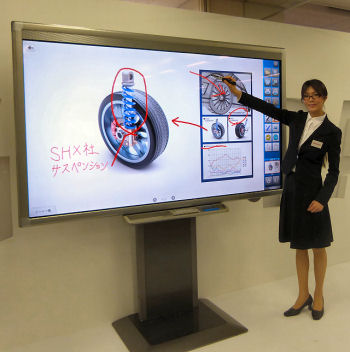 so anyone using a touch screen like this? any pictures of your UI you would be willing to share?
NOTE: As one wise professional something once stated, I am ignorant & childish, with a mindset comparable to 9/11 troofers and wackjob conspiracy theorists. so don't take anything I say as advice...