Below are screen shots of what I covered. (Simplified as requested, this will be specifically for a single Hall Light)
What you'll need:
0) CQC Version 4.3.914 or later (this is when HTTP Get Driver was added by Dean)
1) CQC Admin Interface
2) Firefox or IE (not Chrome!) for the training portion
3) have browser loaded with the IP address of the server where you installed the driver,the port and the Text you want to send. For this example:
http://192.168.1.17:45821/Hall
Light?1=val
Install HTTP based Trigger Driver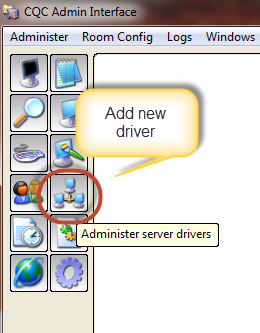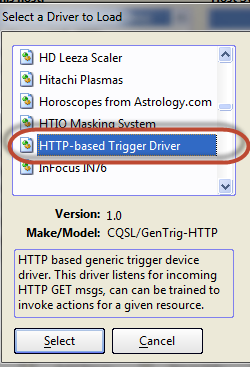 In the webinar I named the Moniker cqcWebinar.
Take the default port, you might want to make it something different for your setup
We're done loading the driver
Now we need to load the client side admin part of the driver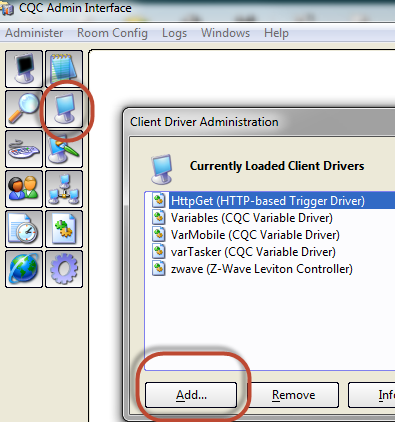 Select cqcWebinar
Now we'll need to add a new Action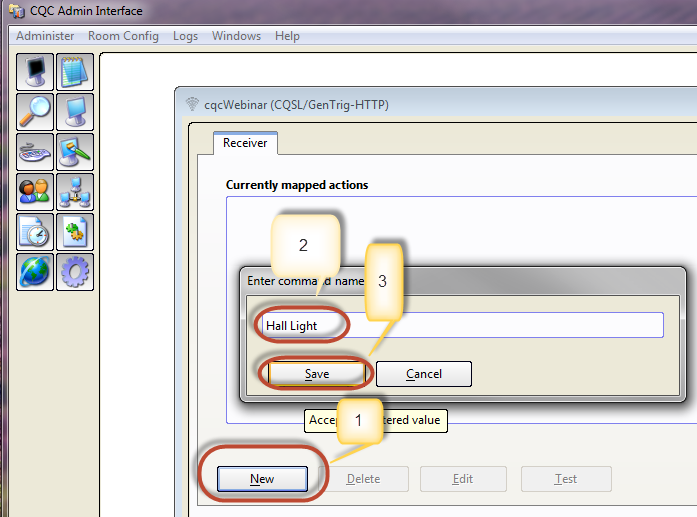 1) select New
2) name it Hall Light
3) Hit Save

4) now go to your browser (that you already have set up with:
http://192.168.1.17:45821/Hall
Light?1=val
5) hit enter 3 times
Note: it's not necessary for the browser text message "Hall Light" to match the action name but it's easier to keep straight if you do. CQC will map whatever text you choose to send to the Action name you pick
---------------
Okay, now lets add some basic code to the action that is required to process the text sent from the device (the browser for now) to CQC.
1) I'm going to take the raw text data sent from the browser and stick it in a variable driver: Tasker, in a variable called TaskerRaw.
2) I'm going to grab the first text value (each value is separated by spaces) and stick it in a variable called TaskerType
3) Hit Save

Note that you want to answer no to the dialog that pops up after you hit save...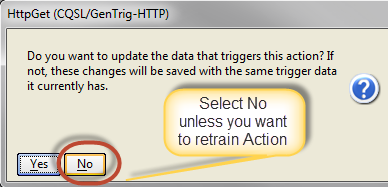 Next I'm going to show you a simple example where there is only a Hall Light and a message to turn the light on (could be off or a level)

Note how the text in the message sent from the browser matches what CQC received and placed in the TaskerRaw variable. I learned this trick from Dean's IR learning code video example. It's a great way to debug the basics and keep it simple. (also has no adverse impact on your family because your flipping lights on and off constantly :roll: )
Last example, is what I talked about more extensively in the webinar...

The concept is that instead of having 1 message from your device mapping to 1 action in CQC I am building a framework to send messages in that is generic and allows for many different types of messages to be sent and processed by CQC.
Well, that's all for now. Hope this helps folks out. I'll be starting a How to for setting up the Android side of things as well as the CQC framework.
Look forward to further conversations on this topic!
-Ben