Mini-ITX HTPC/CQC Server
M350 Universal Mini-ITX Case (Fanless)
Zotac IONITX-A-U Fanless Mini-ITX Motherboard w/build-in DC-DC Power Coverter
- 802.11b/g/n WiFi
- Gigabit LAN
- GeForce 9400M GPU
- D-Sub, DVI, HDMI and even two S/PDIF out
- Low Power Consumption
- Max 4GB RAM (2 x 2GB)
Includes 4GB of RAM installed (2 x 2GB).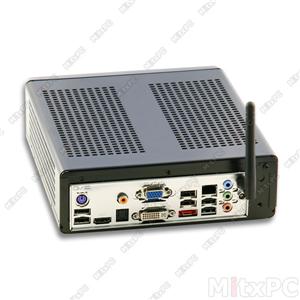 There is room inside the case to mount a 2.5" HD (or SSD) or use the hidden USB on the front to boot from flash (perfect for using with XBMC Live). There is a single cooling fan on the CPU, no other moving parts/fans
(additional fans could be added to the case but the ventilation in the case is plenty for the Atom)
. The Zotac motherboard can overclock the Atom to a stable 2.0ghz if desired with just one setting change.
The highly reviewed case has flexible mounting options (with optional kit to the back of a TV even).
This is a great solution for either an HTPC (Windows 7 and XBMC both support the hardware acceleration of the GPU) or a very low power and flexible CQC/HA server.
Retail price of components is $325, selling for CQC family price of only $250 + shipping