I am pleased to announce that there is now an app on the iOS App store for CQC WebRiva. 
CTC CQC
This was written by someone I reached out to after he wrote a similar app for a C-Bus lighting system (He also makes some really really nice in wall iPad mounts that match Clipsal C-Bus Saturn switches).
This app will go full screen and has options to turn on caching, no pixel etc in settings - so no more URL mangling or testing.
You can also put in teh LAN address and WAN address (and ports) seperatly so no more different icons on the home screen.
Please give it a go and give me any feed back and I will forward it to him.  Alternatively you can contact him directly using the email he has included in the help page.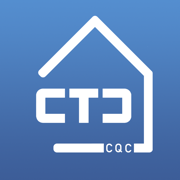 AU STORE
US STORE
Enjoy
Mick