---
KBL's CQC Setup - kblagron - 09-20-2007

After hanging out on here for a few months and finally getting comfortable enough with CQC to build interfaces for everything I thought I would share what I have done so far.

I will be moving in a new house in about 2 months, and I really wanted to have something "to hook up" and use when it was time to move in. The great help I have gotten on this forum is going to make that happen. I would like to say thanks to Dean and the rest of you that have helped me through the growing pains that everyone has getting started.

Right now I plan on having 11 zones of whole house audio, and 6 zones of HD Video using the B&K HD6/CT610 combination. I have a room that I plan on using as a Home Theater, but that probably won't happen until next year, as I have so many other things I want to get set up.



Equipment:
B&K CT610 (2 Total)

B&K HD6

SONY DVP-CX777ES

Sony A-4 DirectTV (Probably will upgrade to HD at some time)

Comcast SA Atlanta 8300HD

Sonos ZP 80 (Tied into the CT, may dump this if I can get CQC Audio working like everyone else)

Lilliput CL8889NT 8 Inch Touch Screen LCD

Nokia 770

USB-UIRT

Dell Optiplex 745 w/ WinXPPro for the CQC Server (Using Main VGA Out as Lilliput Touchscreen, and RDP'ing to Access CQC)

Dell XPS 410 w/ Vista HP for the HTPC Computer (Haven't done much with this one yet)

Drivers Installed:
CQC Variables

B&K CT

Sony 777

Weather

Horoscope (Still working on the screens)

USB-UIRT

CID Modem


Anyway, I decided to do a test setup to 3 zones in my rent house. It involved pulling way too many Cat5e and Speaker wires just to develop the proof of concept for everything. But alas, it was worth it. I have HD Video and Music to my Bedroom, Family Room, and Office, and CQC proved to be an amazing product. My new house is already pre-wired for everything, and I really needed to do this to make sure that I had it right.

I still have a good bit of work to do (and of course more stuff to buy, but it has been a great time so far.


---
KBL's CQC Setup - kblagron - 09-20-2007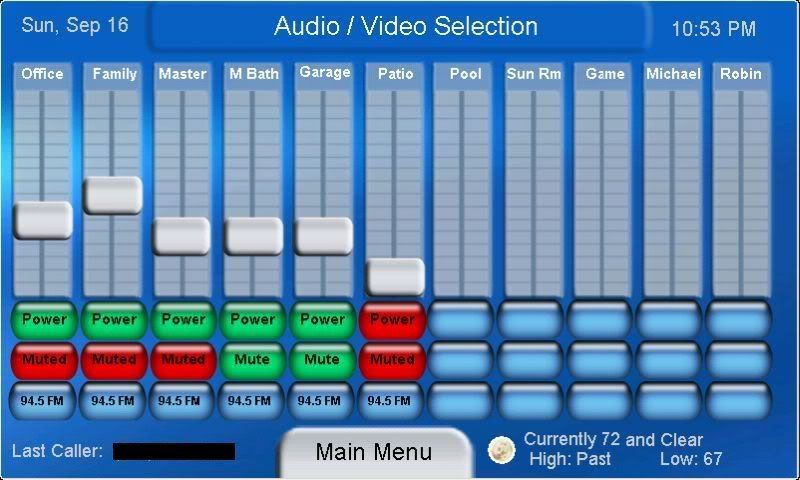 ---
KBL's CQC Setup - ellisr63 - 09-20-2007

you are copying the wrong link from Photobucket.... go to quote one of my posts with a picture and you will see my links for my pics. One is for a link and the other is for forum posting.
Ron


---
KBL's CQC Setup - kblagron - 09-20-2007

Thanks Ron! That fixed it


---
KBL's CQC Setup - kblagron - 01-21-2008

After getting all the general moving items out of the way, I am finally ready to tackle my CQC setup at my new house. The first order of business is the wiring closet.

My builder ran the wires for me, and overall, he did what I wanted him to do, but since part of the wiring package was included with the house, and I had to pay him for all the extras, I figured it would be easier to let him do his thing with my added wiring requirements, and I would reconfigure it once it was installed. I was initially okay with the way the wires were installed back to the wiring closet, but after the electrician came in and placed 110V wires across the back of the closet where I needed access, then the HVAC guy came in and ran ducts across the back of it as well, and then the guy that prewired my security system came in and shoved all of those wires in and around all of the other wires, I had my work cut out.

Shown below is what I initially had:




And how the wiring, air ducts, and 110V were wired behind it - Fortunately this is 2nd floor attic space with easy access - I have a door just outside the wiring closet to the attic: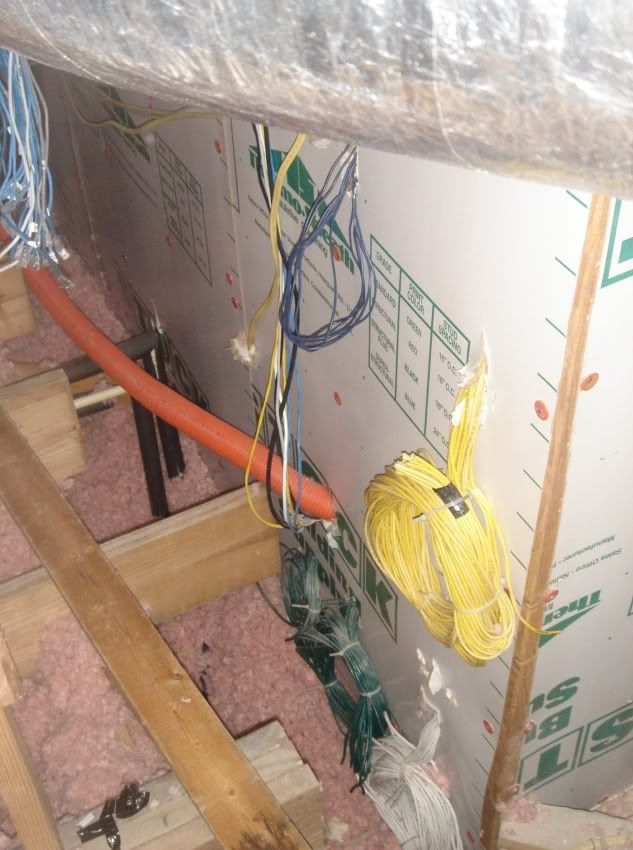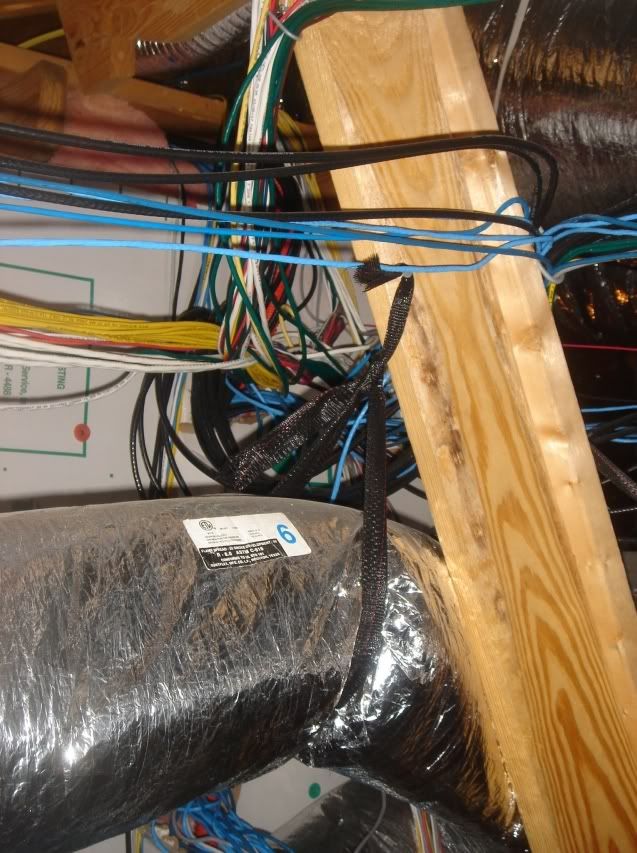 Equipped with a nail puller and a hammer, I got the front to look like this: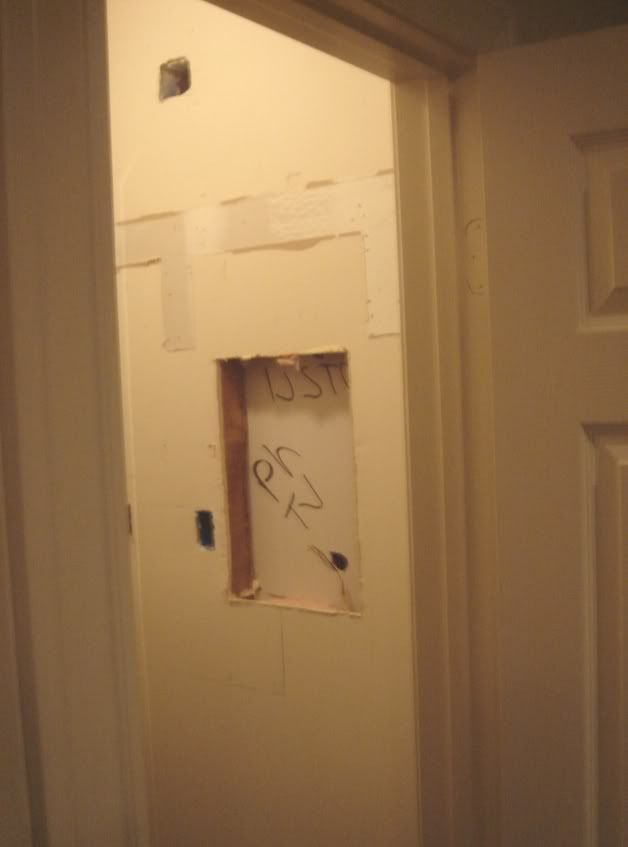 And with a lot of rerouting, I was able to get all the wires coming down into one central point. I routed the security wires separately, and plan on pulling those directly into the 50" can.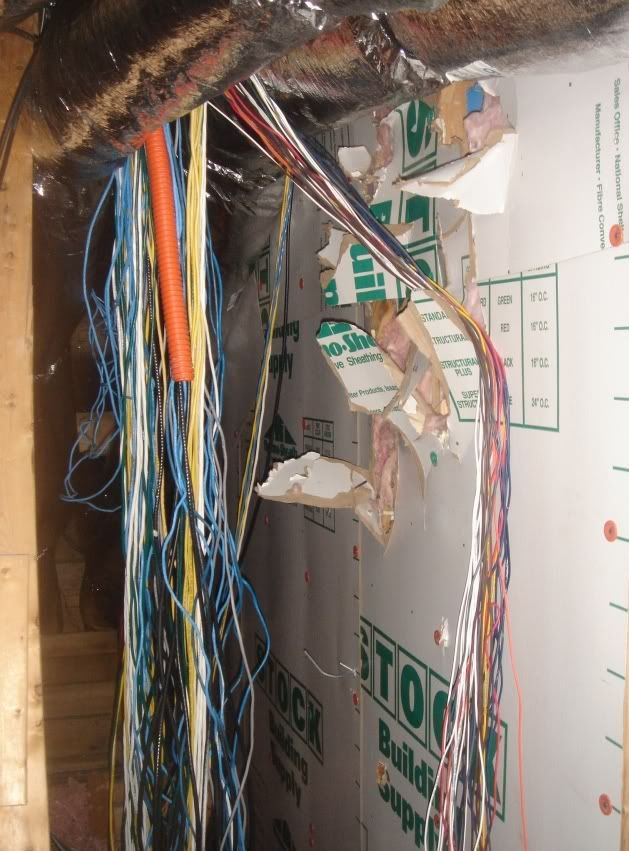 As you can see, I have a good bit of work to do on the front and back to make it look presentable when I am through. I figure I have a few more days of work, but hopefully I can get the end result to look something like this: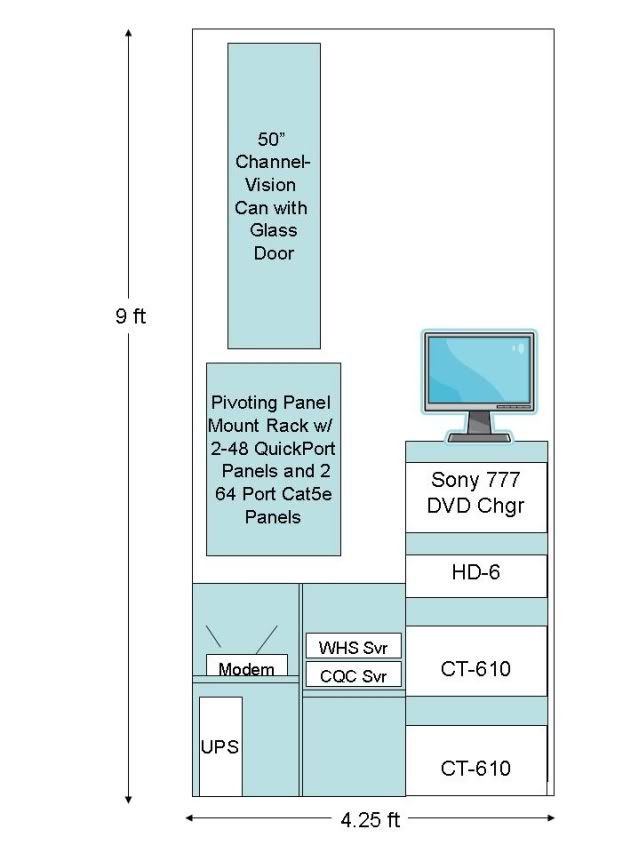 I will keep you posted - Thanks to all that have helped me out so far!


---
KBL's CQC Setup - IVB - 01-21-2008

great work, but it sucks that you had to pay for the privilege of getting something that needed to be redone.


---
KBL's CQC Setup - dkemme - 01-21-2008

Thanks for the great pictures, really helps me with my project.


---
KBL's CQC Setup - kblagron - 02-06-2008

Just thought I would give an update - After working on the wiring closet for the last couple of weeks, I am now ready to start terminating wires.

I did learn that my sheet rock floating skills are not as good as I thought they were. I have done it numerous times, and it always seems like after the job, I forget how important it is to get the new sheetrock perfectly even with the previous - oh well, it is a wiring closet.

As far as access to the rack/equipment wiring, I did a couple of things - I put both the rack and shelf that I am using on rollers, and then bought a plastic chairmat at Office Depot to go on top of the carpet, and it rolls very easy now. In addition, I put a 12" x 24" access door (that opens from the attic out) and is directly behind the 2 whole house audio units and the HD video distribution unit so that I will have easy access to any wiring changes down the road. The CT610 has about 115 connections on the back of it and the HD6 has about 100, so that is about 330 connection points that could potentially be used. Having access to it from behind (especially if you already have it up and working) will definitely help keep your wires a bit tidier.

I debated about what I wanted in the 50" can .vs. what needed to be on the shelves, and finally decided to put the cable modem, Vonage Pap2, 2 x 4 SDTV amplifier, and the 14 port phone distribution unit in the box, and am leaving the 2 wireless access points, the DirectTV distribution block, and the Sonos box elsewhere. This will give me about 35" x 14" of space for the Elk System above it (which I hope is enough room).

I have the CQC Server, WHS, and all of the rack equipment in place, but have not terminated the wires into the patch panel, that is the next task at hand. I will be interesting in seeing how well this pivot patch panel works for wire terminations. I have 98 available quickports and 98 available cat5e connections in it - It did take some modification to get it sunk into the wall so it only sticks out about 4" - It wasn't designed that way.

I still plan on installing an OTA antenna to place in the attic and tie it into the 2x4 SDTV amplifier as a backup to DTV. We get quite a few heavy rainstorms in SE Texas, and it is nice to be able to switch to an antenna for those instances.

I will attach a picture in the next day or so.


---
KBL's CQC Setup - kblagron - 02-07-2008

Here are a few pictures of the wiring closet so far:

Here is a couple of before/during/after shots of the closet from the left and right side. I can't really get a good shot of the whole thing since the closet is only 5' in depth -




Here is a close up of the pivoting access panel and the bottom of the 50" can. To access the wires, you just pull the panel down and have easy access to all of the connections. I think it will work great for the cat5e punchdowns, but not sure how well it will work with the quickport connections, as they have a tendency to not remain snapped in at times, especially when the wires are moved. This panel also has a cover (not shown) that covers up the wires once they are connected.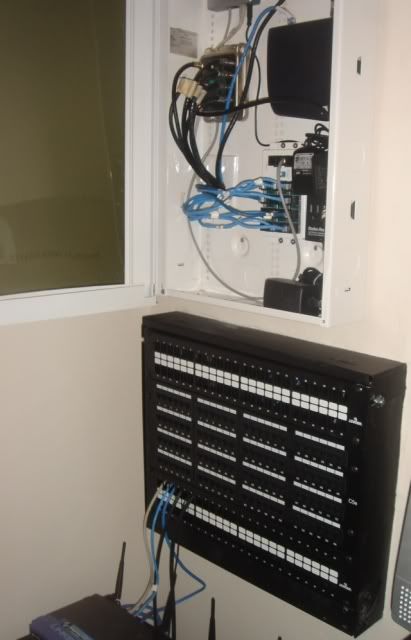 Here is a picture of the access door (shown from the attic side) showing how you can access the numerous connections on the back of the whole house audio/video gear.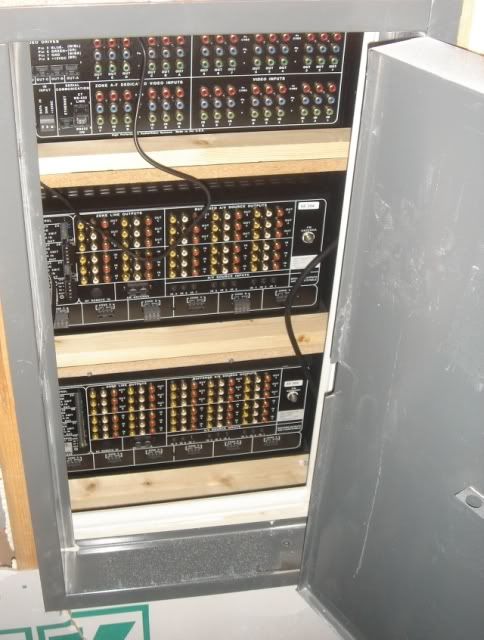 ---
KBL's CQC Setup - brotsten - 02-07-2008

Looks nice. What are the three audio/video boxes in the last picture?

Brian


---